Agama 7.0 – Video observability at your fingertips
With monitoring, analytics, and application insights integrated across the delivery chain, coupled with strong visualization and workflow integration, we make complex video systems observable.  Only then can the full potential of data-driven insights be realized.
NEW AGAMA ELASTIC ANALYZER

ANALYZE. VISUALIZE. OBSERVE.
The new Agama Elastic Analyzer product line takes a new and flexible approach of ABR assets monitoring optimized for cloud and container environments.
With a centralized licensing model, the probes can be instantiated on-demand and capacity re-allocated as needed.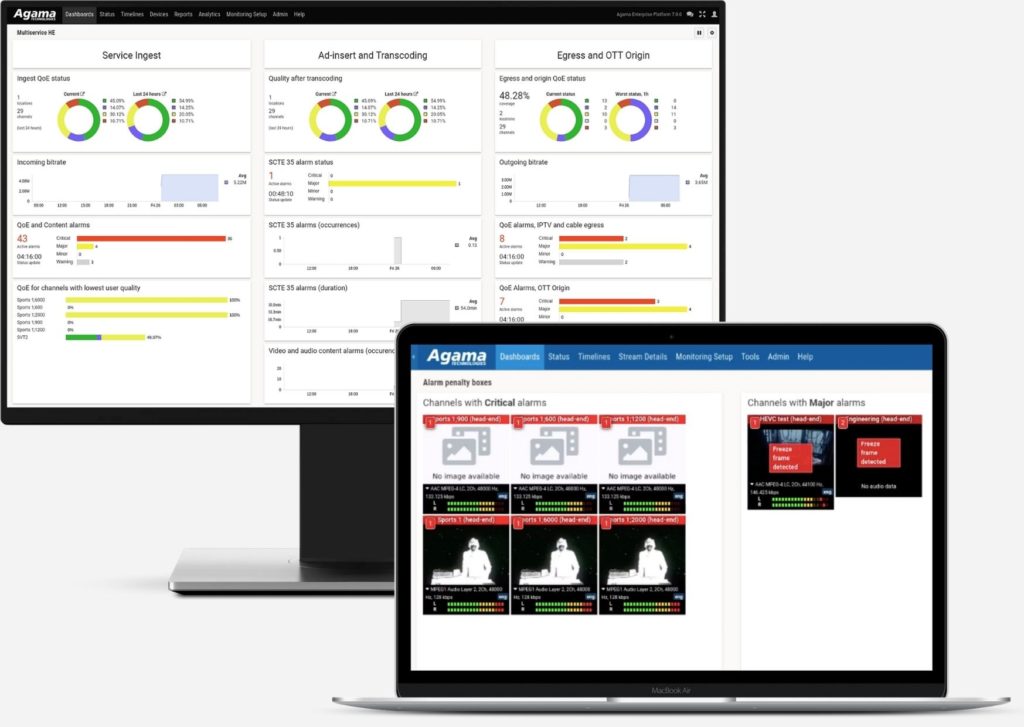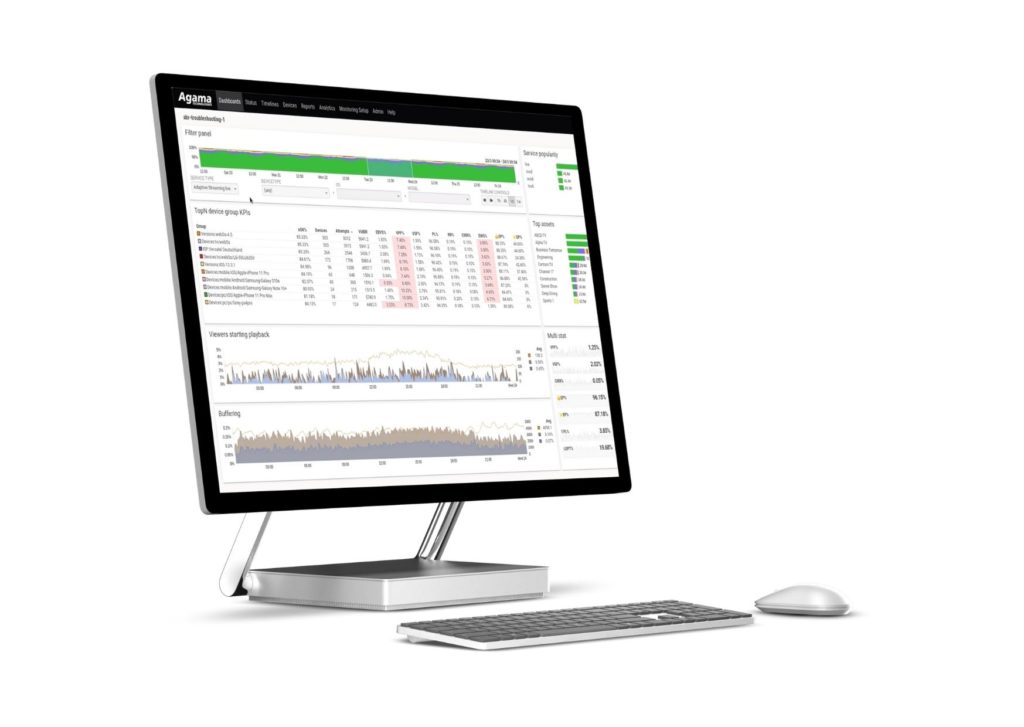 BUILD INSTANTLY INTERACTIVE

BI ANALYTICAL DASHBOARDS
The new feature enables Interactive Dashboards to be created where time, service types and groups can be changed for all or some of the widgets on the dashboard.
The Control Widget makes it possible to quickly and easily build BI like-views targeted for specific customer use cases.
"The new analytical dashboard makes it easy to create powerful dashboards where we can interactively select data and time ranges to zoom in."
Seven Moix, iTV Manager at Netplus.
OTT PERFORMANCE TRANSPARENCY

IN MULTIPLE DIMENSIONS
The new add-on OTT QoS Analytics App is designed to enable quick visualization and correlation between multiple dimensions in the OTT video delivery chain.
KPIs can be compared between devices, CDNs, regions, type of service, as well over time – making it easy to find outliers and changes.
CUSTOMER TopN EXPLORER

DEEP INSIGHTS ON IMPACTING EVENTS
With the new Customer Device Explorer app, it is now possible to find devices based on any QoS metric, group membership and service type.
In order to understand correlations and further drill-down to individual devices, the located devices can then be interactively explored in the UI, with multiple metrics and metadata.
ANALYZER LINEAR CHANNELS TIMELINE

Zoom. Brush. Filter. Sort.
The brand-new timeline view for ABR live, multicast, DVB, and other linear services, makes it easy to correlate QoE and conveniently predefined QoS metric sets for any combination of assets and locations. 
Interactive features like zooming, brushing, filtering, tooltips on hover, topN sorting and more, make it fast to work with and familiar for users of CDM timelines.