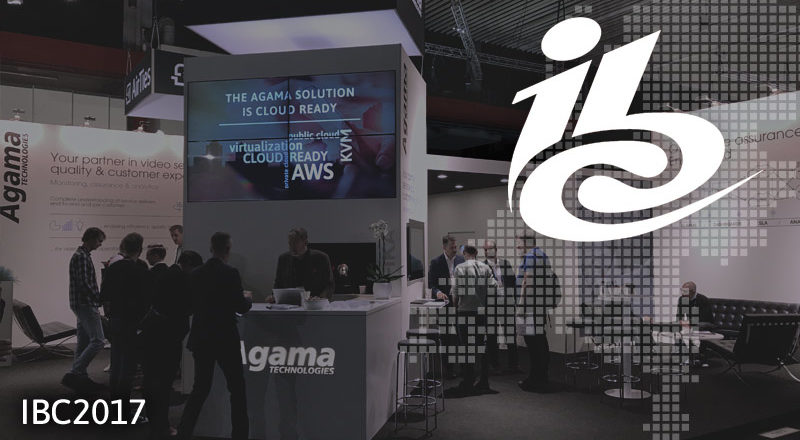 IBC 2017
22 August, 2017
The IBC Show is over for this time.  A big thank you to our customers and partners, great meeting you all. The Agama highlights were:
The Agama solution is cloud ready
Dedicated hardware, private cloud, public cloud or a mix? Whatever your preference, the Agama solution is now cloud ready and can be deployed on any platform anywhere. Talk to us about real-time monitoring and analytics for a virtualized world and discover how your assurance solution can go wherever it is required to be.
OTT service assurance
How do you ensure quality across all of the different parts of the OTT end-to-end delivery chain? When problems occur, it can be difficult to find the root cause. It could, for example, be the service playout, the CDN or the app that is ultimately causing the customer dissatisfaction. Talk to us about how to ensure optimum quality throughout your video delivery chain, from the head-end to the customer's player; and, how to diagnose where any faults originate before they impact on the customer.
Modern service assurance, including support for ad insertion, HLS7, HEVC, DASH264, UHD/4K
Modern video service solutions need to handle a diverse set of tasks at every step of the video processing chain. This includes Ultra HD/4K and ad insert in linear and OTT services, all while delivering to multiple platforms and screens. To ensure customer satisfaction, it is vital to maintain transparency and control of every step throughout this complex process. Agama's multi-technology, full software-based video assurance solution supports linear, as well as on-demand services, video technologies such as HEVC, SCTE-35 ad insert validation, and all major adaptive bitrate formats.
Proactive HFC assurance
How do you ensure complete customer satisfaction in your cable service? Experience shows that around 70% of all problems in cable networks stem from issues in the last-mile RF infrastructure. If not addressed at an early stage, this leads to high operational costs and customer complaints. By detecting issues early, unnecessary truck rolls can be prevented and costs and churn can be cut. Talk to us about improving transparency in your cable network.
Contact us if you would like to know more about our solutions or book a meeting after IBC.
Shortlisted for the CSI awards
We are proud to announce that the Agama Technologies solution OTT Service Assurance –End-to-end has been shortlisted in the category Best monitoring or network management solution.