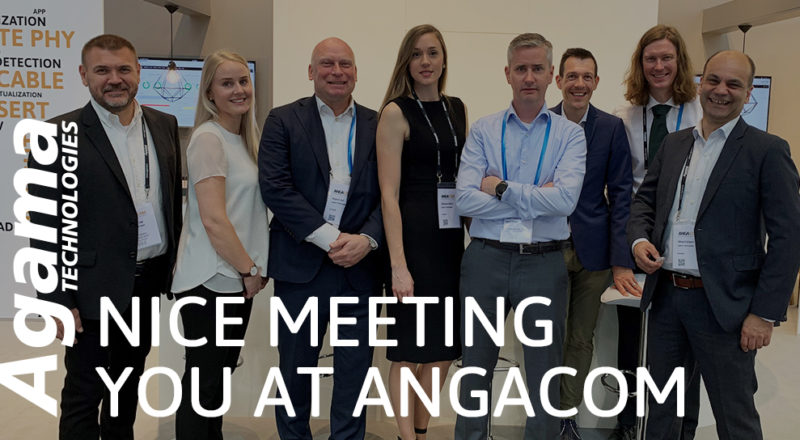 Nice meeting you at ANGACOM!
10 June, 2019
It was a pleasure meeting you and all industry colleagues at ANGACOM in June. The event resulted in many exciting discussions around video service quality and customer experience – and how to create insights to a streaming world. 
Our event highlights: 
FULL INSIGHT INTO EVERY STREAM AND EVERY EXPERIENCE
The viewers' demand for high-quality services is constantly increasing. In a market full of choices, winning comes down to exceeding customer expectations and enabling expansion of the customer-base. Having the right information and insights across the whole delivery chain is crucial to keeping the quality of your services high and your customers happy with the right service offerings.
Our solution empowers operations, product management, marketing and customer facing teams to drive customer satisfaction, lower operational costs and increase agility.
Read more about how our solutions empower your organization with awareness and insights that drive operational efficiency and improve customer satisfaction.
Assuring SCTE 35 targeted advertising and digital program insertion signaling
When it comes to targeted advertising, there are a lot of aspects to assure, for example: is the signaling system alive, do ad breaks come as often as expected, do they have the expected duration, is the splicing frame accurate, do the signals contain the information expected, and are STBs and players or server side splicing systems given enough time to react?
The Agama ad insertion assurance offering includes the monitoring, validation and visibility needed to assure ad insert services for both multicast and OTT.
OTT service assurance for a better customer experience
To understand how your OTT service is performing, where potential issues are located and how the service is being used, knowing what is happening in each step of the delivery process is necessary. With a holistic view, silos can be broken down and the video service can be managed on multiple dimensions.
Our solution provides a unique end-to-end understanding by creating insights into the entire delivery: from encoding and packaging, through CDNs and the ISP, to STBs, apps and devices.
Contact us for more information.
REMOTE PHY MONITORING IN MODERN CABLE DEPLOYMENTS
To manage expectations on 'broadcast quality' and to create high speed offerings in the most cost-effective way, the transformation to new technologies and infrastructure is underway. The remote PHY monitoring capabilities of the Agama Analyzer gives full insight into the DEPI streams, from the CCAP core towards the remote PHY devices, ensuring that any issues in stream or content integrity can be detected.
Learn more about how you can ensure remote PHY rollout success through transparency and insights in service performance.
OTT AND MULTISERVICE HEAD-END ASSURANCE – AD INSERT, VIRTUALIZATION AND CONTENT LEVEL PERFECTION
The modern head-end creates and processes a multitude of advanced services: Ultra-HD/4k, SCTE 35 ad inserts as well as creating content for multiple platforms and screens.
With the flexibility to deploy on-prem, cloud or hybrid – including containers – and support for fully automated deployment, Agama can monitor your services wherever they are created.
Read more about our solution for head-end assurance. 
New features, enhancements and possibilities with 5.4 – the latest version of the Agama solution
We are delighted to present the latest version of the Agama Solution! Version 5.4 adds many new features, enhancements and new possibilities such as automated group creation from metadata, QoS correlation between groups, alarm enhancements, and workflow and usability enhancements – all to drive further insights and a more efficient way of working.
Contact us for more information on the new version and how to upgrade.
We'll be exhibiting at IBC2019! Contact us to book a meeting. 
Agama selected by UPC Hungary for Quality Assurance
Telenor extends cable service assurance with Agama