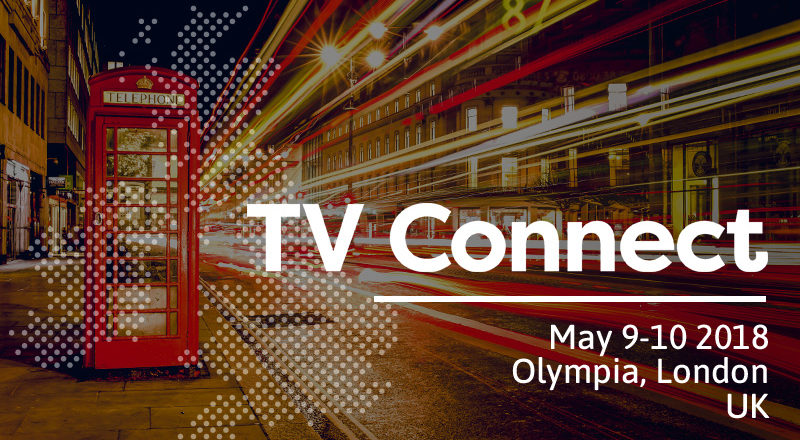 TV Connect 2018
12 April, 2018
Are you visiting TV Connect in London, 9-10 May? Is so, we would really like to meet with you to discuss customer satisfaction and operational efficiency in the competitive video service market.
Learn more about:
How your customers consume content across all types of devices
Assuring software- and cloud-based head-ends – containerization, ad insertion and automation
Managing customer experience in a post GDPR world
Where? London, Olympia. Stand F30.
When? May, 9-10
Customer retention and product insights
With real-time insights into how and when services are consumed, Marketing and Product Management have the data needed to make data-driven decisions to improve and optimize an offering.
Learn exactly how your customers consume content – whether it is live TV, timeshift or VOD – across all types of devices, including main screens and OTT devices such as phones, tables and smart TVs.
We would be delighted to meet you and share experiences about how our customers have combated churn, improved their content acquisition and made better product rollouts.
Assuring software- and cloud-based head-ends – containerization, ad insertion and automation
Head-ends are quickly transitioning to cloud and virtualized environments in order to increase agility and gain flexibility to combine on-premise solutions with cloud-based processing steps.
Agama's offering for HE assurance covers all steps in service creation, from mezzanine to packaging, in-depth analysis covering video and audio content, as well as SCTE-35 on OTT and linear format, creating 24/7 transparency for every delivered stream.
With the flexibility to deploy on-prem, cloud or hybrid – including containers – and support for fully automated deployment, Agama can monitor your services wherever they are created.
Managing customer experience in a GDPR world
At Agama, we have worked in environments with strict privacy regulations for many years. We would be happy to share our experiences and describe our capabilities that support video service operators to excel while maintaining full control of privacy and integrity aspects as per the GDPR requirements.