Agama 6.0 – Focusing on collaboration
and powerful analytics
Ensuring that insights and information can be shared and communicated between stakeholders and teams has always been a key focus for Agama – we believe this is more important than ever.
Instantly spot problem channels with new Penalty Box
The Penalty box dashboard widget in Agama version 6 gives video operations an immediate understanding of the visual impact of ongoing incidents
INSIGHT SHARING AND INTEGRATED WORKFLOWS
Agama Collaborate enables you to share graphs and insights seamlessly over MS Teams and Slack, by annotating screenshots and send them directly to your colleagues and get alerts straight into your channels – all to accelerate your workflows.
The Agama Widget SDK is a complete environment to build and deploy widgets to integrate with any kind of data source you have – directly in the Agama dashboards, for correlation and further insights.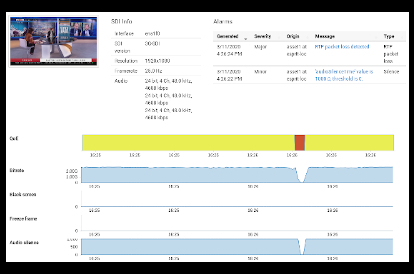 WIDENING THE HEAD-END SCOPE
Expanding the coverage to IP-SDI, Agama now can provide a single pane of glass transparency in all types of head-end scenarios, making every processing step transparent and verifiable.
POWERFUL ANALYTICS
Agama 360° Analytics for IPTV – the award winning concept for end-to-end analytics and visualization is now available for IPTV as well as OTT! Understand the real-time flow from head-end, through the network to consumer devices for your services, directly pinpointing the customer impact and where problems are originating.
Drag and drop to create to-the-point dashboards with the new dashboard builder tool. Or copy a dashboard design and send it to a colleague.